1972-1989 MERCEDES SL REAR JUMP SEATS
Stationary and Fold-Down for the W107 Body
JJ Products designs, manufactures and sells the finest quality rear jump seats for the Mercedes SL Roadster. Seats include stationary and fold-down styles for 107 Chassis vehicles such as the 350SL, 450SL, 380SL, 280SL, 300SL, 500SL and 560SL models.
Stationary Rear Seat
Scroll down to see Fold Down Seat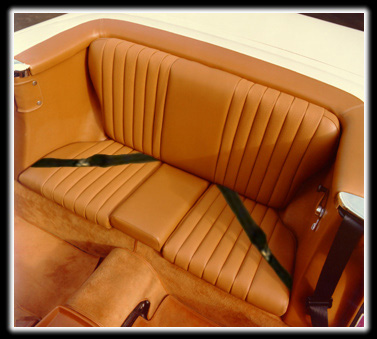 Click here to view our Color Chart
Seat Belts are Included!
A very popular option for all 1972-89 models
Upholstery matches the color, texture and style of the vehicle's interior.

Installs quickly without modifications. Seat belts bolt into existing OEM holes.

Comes complete with seat belts, all necessary hardware and comprehensive
instructions.

Special design ensures a perfect fit and simple installation.

3 Year Warranty.

Prices:

Leather $899.00 - MB Tex (vinyl) $699.00

We ship Worldwide

Shipping cost is calculated in Shopping Cart

1-800-654-2356

---

Fold-Down Rear Seat


Click here to view our Color Chart

Seat Belts are Included!

A factory option in Germany, this versatile Mercedes SL rear seat is engineered to fold down in order to retain carpeted back seat storage.

Mercedes Benz Tex or Leather ensures a factory appearance.

Provides extra storage room in the fold-down position.

All hardware and seat belts install quickly to factory OEM mounting points.

Comes complete with seat belts, all necessary hardware and comprehensive
instructions.

Special design ensures a perfect fit and simple installation.

3 Year Warranty.

Leather $1,750.00 - MB Tex (vinyl) $1,450.00

We ship Worldwide

Shipping cost is calculated in Shopping Cart

We also carry products for other types of cars.
Please give us a call at 1-800-654-2356

107 chasis, 1971, 1972, 1973, 1974, 1975, 1976, 1977, 1978, 1979, 1980, 1981, 1982, 1983, 1984, 1985, 1986, 1987, 1988, 1989

© JJ Products & Auto Accessories, LLC - 2262 SE Holland St. - Port St. Lucie, FL 34952 Tel: 973-228-3460 - Fax: 973-707-6426 -Toll Free 1-800-654-2356